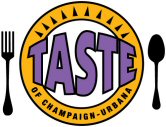 Summer is almost here! Manolo's Pizza & Empanadas is getting ready for our summer events: first up on the list is the 40th Annual Taste of Champaign-Urbana held from Friday, June 11th to Sunday, June 13th!
This will be the second year that Manolo's attends the Taste, and we're hoping to share our delicious empanadas with many more members of the community.  Also, we're happy to announce that this year we will be serving pizza by the slice! Naturally, we'll have cheese, sausage, and pepperoni for the kids, but mom and dad can sample our delicious gourmet specialty pizzas including our new Spotted Goat pizza (made with mushrooms, spinach, roasted garlic cream sauce, and fresh goat cheese), or our BBQ Chicken with caramelized onions and delicious, tangy bbq sauce.
But Taste isn't just about the food (though that's a big part of it)! While you wander around the park and sample the many culinary delights from local restaurants, make sure to take in some music and entertainment! Don't miss Delta Kings, Elsinore, and Angie Heaton and the Gentle Tamers among others.